These sweet little Angel baby shower ideas, gifts, and party invitations, are perfect for any Christian baby celebration. An Angel baby shower will be faith-filled event with your loved ones, family, and friend.
Find Angel baby shower ideas, supplies, plus gifts, that can also be used for a baptism, or christening theme on this page. You can use the angelic baby shower theme for boys, and girls, as the there are 2 themes, blue for boys, and pink for girls.
Featured are the angel boy baby shower party favor box, invitation, candle tin, lip balm,  which come presented inside an organza bag.

Angelic Baby Boy Shower Theme
This sweet Angel baby shower theme for boys is too cute with a heavenly angel boy with wings, halo, holding a cross and wearing a blue diaper! All angel boy favors and party supplies will be personalized with your information and can be used for either a baby shower, baptism, or christening.
If you are looking for Christian baby shower ideas, this page has a variety of religious baby party themes, favors, keepsakes gifts, and invitations for your blessed event from!
In addition, have either a special album, or keepsake box, to store all the joyous treasures from your baby's celebration. You will have the keepsakes in one place to reflect on this event for years to come.
Remember to celebrate, praise, and especially thank the Lord for giving you  a special treasure in you baby! While you have your baby celebrate with your Church members, family, and friends know that baby is "heaven-sent"!
Girl Angel Baby Shower Supplies

Religious Angel Baby Girl Party Theme
Bless the parents-to-be expecting a girl by using the Angel baby girl party supplies showcased in the photo above.
I love the angel baby personalized  banner sign with an angelic quote that reads: A New Angel is Born! plus, God Bless (baby's name).
Other angel girl custom party supplies shown in the photo includes: banners, place mats, favor boxes, candles, invitations, plus cupcake wrappers.
Boy Angel Baby Shower Supplies

Angel Baby Boy Personalized Banner
Display this personalized baby angel boy banner, with an illustration of an angel boy wearing blue diapers, halo, plus holding a cross, above either your entrance, or dessert table.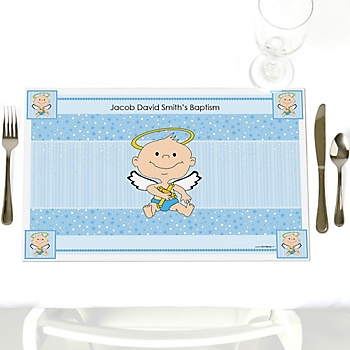 Angel Baby Boy Custom Print Place Mats
No need to worry about what to use under you baby shower table settings, since these place mats match the remainder of the angel boy baby shower supplies.
Angel Baby Shower Invitations

Christian Angel Baby Girl Christening Invitation
Angelic baby girl sleeping on "cloud nine" is a precious invitation for a baby baptism, christening, or Christian baby shower.
Angel Baby Shower Party Favors

10 Angel Wings Soap Party Favor

Blue or Pink Angel Trinket Box Party Favors
Pretty blue or pin Angel-shaped trinket boxes for either a baby baptism or religious angel baby shower. Each angel curio box come in either blue, or pink, with rhinestones. Because each angel keepsake comes gift-boxed, t with a ribbon, an attached "For You" gift tag, they are ready-to-give.



Angel Ornament Baby Party Keepsake Favors
Hanging angel ornaments make a wonderful party favor for either a baby baptism, christening, or Christian baby shower. Since each decorative ornament favor is ready-to-give, therefore this Angel baby shower favor saves you time, and money.
Religious Angel Baby Shower Supplies

Guardian Angel Plush Handmade Doll

Printable Angel Baby Shower Games

Printable Angel Heaven Sent Baby Party Theme
Baby Angel Bodysuits

Baby Christening Romper 0-6 Months
Consider gifting the newborn this romper either a christening, baptism, or dedication. The baby romper is white, accent with a cross graphic, plus this Scripture:
Children are a gift from the Lord.
Psalm 127:3.

Heaven Sent Baby Bodysuit
Bodysuit has a graphic on the front with a baby sleeping on a cloud, printed with the Heaven Sent quote, personalized name, plus baby's birth year.

Since the parents-to-be are expecting a "heavenly gift", consider hosting them an Angel-themed baby shower.
Check out these fun baby shower ideas