Find Christian baby boy dedication, baptism, and Christening ideas to celebrate the birth of the little one.
Many of these Christian baby boy dedication party supplies can be used for other religious events like: a baby shower, Baptism, or Christening celebration.
Many baby boy dedication items below are Baptism and Christening items.
The Christian baby ceremony will depend on the denomination of the church. While, some denominations have a Baptism or Christening for a baby, others wait until the baby is older and have a baby dedication instead.
A baby dedication ceremony is usually hosted by a church. Most members of the church will attend the celebration ceremony and vow to help on his spiritual journey.
If attending the baby boy dedication ceremony, consider a Christian baby boy gift like one of the three shown below.
Baby Boy Dedication Party Supplies

Religious Blue Baby Party Supplies

Twins on Dedication Day

Boy's Dedication and Baptism party supplies
Use several of these blue cross party supplies for a boy's  dedication party. Party supplies in the picture  include: a banner, cupcake top, favor bags, place mats, and also tin candle.s
Each blue Christian party supply is personalized and will be suitable for a baby dedication, baptism, and christening.

Blue Christian Party Popcorn Box
Popcorn will be a fun party treat for everyone! Use one of these blue, Each blue and gray popcorn box has a white cross accent and also personalized with a name and date.

Boy's Personalized Baby Advice Card Set
Baby Boy Dedication Gifts


Musical Christian Boy Figurine
Religious baby boy musical figurine by Precious Moments.
The musical figure has a baby boy in a tiny swing, engraved with the quote: Angels high above, bless this child with peace and love. In addition, the figurine plays the tune: Always In My Heart.
Dedication Gift Ideas for Boys


Blue Christian Infant Bodysuit
This religious baby body suit will make a wonderful gift for the little one and is printed with the Bible verse:
He answered. 1 Samuel 1:27.

God Bless Baby Doll
Christian baby doll is embroidered with a cross graphic and also the sentiment:
God Bless.

Boy's Christian Baby Blanket
Blue plush bear security blanket is embroidered with a Christian sentiment.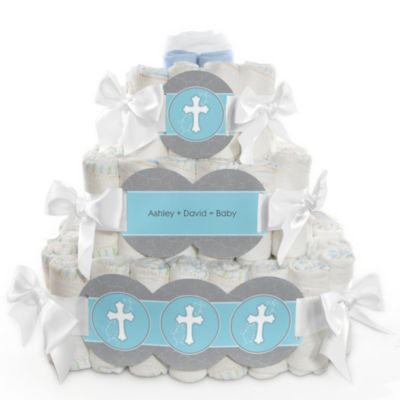 Religious Diaper Cake
Baby Boy Dedication Invitations

Photo Baptism Invitations

From Heaven Above Dedication Invitation
Baptism  invitation has a graphic of a baby wearing angel wings. Also, each invitation is printed with the quote:
The angels light another star
each time there is a birth to
celebrate each precious child
the good Lord sends to earth.
Check out these fun baby shower ideas