Baby Shower Dessert Table
Get inspired to serve party guests sweet treats in style with one, or more, of these baby shower dessert table ideas!
Baby shower dessert table pictures will give you a visual idea to create a wonderful candy buffet or dessert display.
Create an eye-catching baby shower dessert table which will make a big impact with party guests, like: a candy buffet!
To create a baby shower candy buffet try using clear candy bowls, jars, and also containers displayed in different heights.

DIY Baby Shower Table Supplies 12-Pack
The  baby shower dessert table decorating kit can also be used on a candy buffet.
All feature baby shower decorations have gold print and also each is printed with this sentiment: Babies are Sweet. Baby shower supplies come a large assortment for both a boy and girl.
Baby Shower Dessert Table Ideas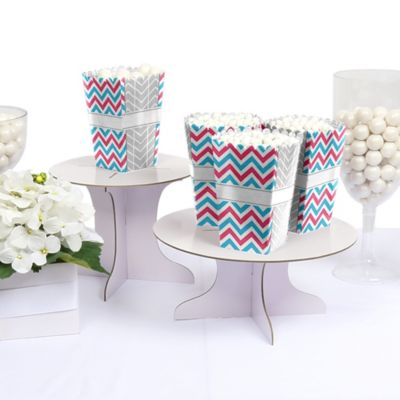 Chevron – Personalized Baby Shower Popcorn Boxes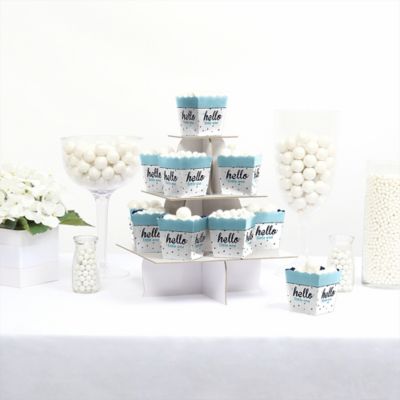 Hello Little One Boy Baby Shower Candy Boxes


Custom Baby Shower Candy Boxes
Display candy, or other small treats, inside of these personalized baby shower candy boxes! These baby shower candy boxes are in an alphabet these. but choose from a large variety of additional designs which will coordinate with other baby shower supplies.



Teddy Bear Baby Shower Popcorn Box
Serve not only popcorn in these baby shower popcorn boxes, but use the boxes for other treats. Each baby shower box has a teddy bear graphic, and personalized with the expectant mom's name, as well as, the date of the party.

DIY Cupcake Pedestals
Mini cupcake holder comes in six colors and will display cupcakes in style on any party dessert table.

24 Neutral Baby Shower Cupcake Decorations


DIY Baby Shower Pacifier Treat Holders
Create these cute pacifier candy treat holders by using clear ornaments and also ribbons. Fill each pacifier holder with coordinating candy.

Baby Shower Sweets Table
Dessert table picture is by Kara. Kara covered the party table with a pink polka-dot table cover and added words to the front which reads: Things that pop.
Kara served baby shower treats in cute popcorn boxes with a graphic of an expectant mom. In addition, all dessert items are labeled with a sign card.
Baby Shower Candy Buffet Ideas

Pink Baby Shower Candy Table


Blue Baby Shower Candy Buffet Supplies
Recreate a similar blue candy buffet with items like: candy sticks, chocolate-covered candies, lollipops, and so much more!

6 Baby Shower Candy Buckets
Use these plastic clear plastic candy holders to display and serve goodies at your next event. Fill these buckets with candy, nuts, or mints.
Check out these fun baby shower ideas