Christian Baby Shower Themes
Hosting a Christian baby shower is an honor and will be a blessing for the expectant mom and the guests who attend. Some religious baby celebrations are baptisms, christenings, baby shower, or a new baby birth.
However, over the years, finding Christian baby shower supplies has been a challenge and religious party themes are becoming harder to find. That is why I have created this page, to help you find the best Christian baby shower themes, decorations, favors, gifts, for hosting a religious baby celebration in style!
Two ideas for a Christian baby party are the Lamb baby shower theme and a Cross baby shower.
A Christian themed baby shower can also be used for other religious events for babies or children. If you plan on having a Baptism, Christening, or Baby Dedication, most of these Christian baby shower party supplies can be used for these events too!

Behold Children are a gift from the Lord
Bible verse Psalm 127:3
Photo by Mandi Bruce

Baby Christening
Photo credit: Deejaymarlon
Christian Baby Party Planning
Decide what type of Christian baby shower to host. Do the parents know the gender of the baby? Is it a boy, girl, or is the baby going to remain a surprise?
How many people to invite? Is this going to be a family and close friends only baby shower or do you want a larger event? There will probably be both for the mom-to-be. I recommend having a baby shower hosted by the church and it include your lady members in on the fun! It is a wonderful way for your church ladies (and gents if your prefer) to share the upcoming blessing of having a new church family member!
Pick your baby shower date. Finding a day and time might be a bit of challenge with the busy lives you led. Personally, I like the idea of hosting a baby shower on a Sat. An evening might work best for you and you may even consider having a baby shower during mid-week Bible school when many parents bring children to church already or in place of an adult Bible study.
Make your list of guests and find the addresses and phone numbers. If you have your baby shower at the church, this task should be easy! Be sure to enlist others for help and find others who are talented in some areas such as: baking, organizing, decorating, or have fun playing games…each of these ladies will be very helpful to pull off a great baby shower!
Christian Baby Shower Memory Book


Inspirational Woodland Animals Baby Memory Book
This cute, Christian memory book has an adorable woodland fox graphic and the Scripture quote:
I praise You because I am fearfully and wonderfully made.
Psalm 139:14
Inside is plenty of room to keep track of noted baby celebrations, firsts, 5 pockets, envelopes for first haircut and tooth, adoption pages, plus plenty of Bible verses.
Christian Boy Baby Shower Supplies

Little Miracle Boy Christian Baby Shower Theme
Christian baby baptism, christening, or religious baby shower theme for boys is a wonderful mix of baby blue and brown with a Cross accent!
Use this Little Miracle party theme for a baby shower, Baptism, Christening, or baby dedication party! There is a wide variety of Little Miracle Boy favors, centerpieces, baby gifts, and baby shower supplies!

Little Miracle Boy Baby Shower Cross Balloon and Table Confetti Decorations
Set the scene for your boy's Christian event with this elegant blue cross balloon, blue and white latex balloons,  and  large, confetti pieces that come in a variety of sizes.


Children Gift From God Invitation
Precious Christian baby celebration invitation to add your little one's photo and printed with the Bible quote:
Children are a gift from the Lord:
they are a reward from him.
Psalm 127:3
Christian Girl Baby Shower Supplies

Little Miracle Girl Pink Brown Cross Christian Baby Shower Theme
Little Miracle girl is a Christian baby girl theme with a Cross accent and a mix of pink and gray colors!  Beautiful religious baby shower theme for girls can be used for a baptism, christening, or shower and all party supplies are personalized.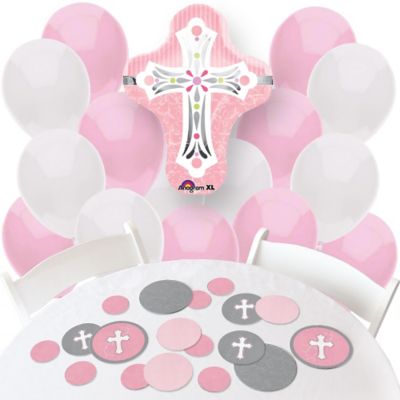 Little Miracle Girl Baby Shower Cross Balloon and Table Decorations
Party supplies like the Little Miracle Boy decorations shown above, only in pink for your precious girl's event will make a big impression with your party guests.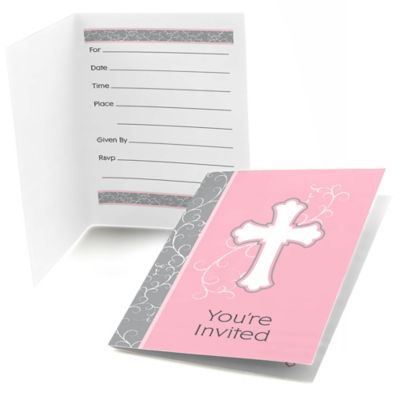 Little Miracle Girl Fill in Party Invitations 8-Pack
These pretty Christian invitations for a girl a pink, with a cross graphic on the front and the a simple, You are invited sentiment. Inside find  printed  titles, with blank lines, for you to fill in with your important information that includes; For, Date, Time, Place, Given By, and RSVP.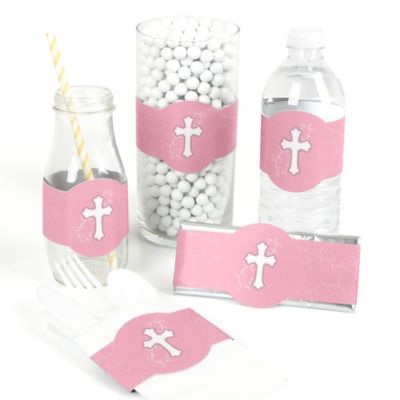 DIY Little Miracle Girl Party Wraps
White cross set on a pink background with gray trim, make this baby shower theme simple and elegant. These party wraps allow you to decorate your baby girl party supplies in style and can be used on a variety of items.
Christian Baby Shower Games

Instant Download Noah's Ark Baby Shower Games
Adorable Christian theme printable Noah's Ark baby shower games bundle that is downloadable, and printable, and includes:
Baby Shower Bingo
Diaper Raffle tickets
Price Is Right game
Wishes for Baby game
Christian Baby Gift Ideas

Child of Christ – Christian Baby Figurines
Precious Christian figurines for your baby shower, baptism, or christening! These Child of Christ figurines show an infant dressed in a baptism gown, resting in the palm of God's hands, with a cross in the background.

My Child Jesus Holding Baby Poster

Jesus with Newborn Baby Musical Figurine
This precious musical figurine makes a wonderful Christian baby gift! The figurine depicts Jesus holding a newborn baby and the base is engraved: May you be blessed by God above, safe in His arms, wrapped in His love, and the figurine plays the beloved tune: Jesus Loves Me.

Baby Bless This Child Musical Lullaby Rocking Figurine
Precious Moments musical figurine for the newborn baby features an infant in a moving crib that plays the sweet tune: Brahms Lullaby. This Christian musical figure is suitable for a boy, or girl,  new baby, as the  newborn babe in the crib is wearing a yellow pair of pajamas, and the neutral patchwork design base is printed with the sentiment: Bless This Child.

Baby Shower Gift Jesus Loves Me Shirt Baby Bodysuit
Baby girl will fashionable wearing this Christian bodysuit with gold-glitter print that reads:
Jesus loves me!


All I Need Is Milk and a Whole Lot of Jesus Bodysuit
Fun Christian baby bodysuit printed with the sentiment: All I need is a little bit of milk and whole of Jesus!
More Christian Baby Shower Party Ideas

Baptism Party Gifts and Photo Table
Photo Credit: b@nfy
Now, you can really get down to planning the baby shower! Here are just a few ideas to get you started with the details of the baby shower!
Theme
Party Supplies
Invitations
Decorations
Favors, door prizes, small gift ideas
Food or snacks
Games
Check out these fun baby shower ideas