If you love the Country life, host a cowboy baby shower for the expectant mom. The new parents will be thrilled and will not be singing the song, Mom do not let your babies grow up to be Cowboys!
Continue to read about all the fun Little Cowboy baby shower ideas featured below.
The little Cowboy baby shower party is a darling theme with a graphic of a baby wearing a  cowboy hat, cow-print diapers, a pair of  boots, and also swinging a lasso.
Also, the red bandanna print on the cowboy baby shower supplies add a fun design to the party. So, use any bandanna on a table as a place mat or give one to every party guest to wear.
Enjoy the photos of the Little Cowboy baby shower decorations and also the party supplies.

Printable Little Cowboy Party Games
Download and play this set of 4 Little Cowboy baby shower games which includes:
Bingo
Price is Right
What is Your Purse
Wishes for Baby Card

Cowboy Mommy Baby Party Invitations

Printable Blue Cowgirl Baby Shower Invitation
Western Cowboy Baby Shower Ideas


Little Cowboy Baby Party Supplies Theme
A cowboy baby shower theme party kit with everything needed for 8 people!
Little western baby shower kit is filled with fun supplies like: cups, napkins, plates, and also a variety of solid-color party supplies.


11 Country Western Party Decorations and Props
These decorations, and props, will set the stage for a a Cowboy, or Ranch  Western baby shower.
Western decorating kit has so many supplies like  the Red Barn, ranch arch, campfire prop, 3 hay bales, fence post rails, and also a hanging banner.

Cowboy's Steer Wrestling
Rodeo photo by Amcilrick.

Western Theme Party Kit for 8
Blue and red, cowboy, western party theme with supplies for 8 people and includes:
Cake Plates
Cups
Cutlery
 Napkins
Table Cover
12 Candles
2 Color Streamers
Cowboy Baby Shower Dress Up Fun

Bronco Picture by C. Juneau
Give party guests something fun to honor the coming little cowboy like one of these fun costume accessories which includes: cowboy hats and western bandannas.


Black Cowboy Hat
Cowboy Baby Shower Decorations

Cowboy Baby Party Table Place Mats
These adorable place mats have the little cowboy graphic with a red bandanna print against a tan background. Each cowboy place mat is printed with the expectant mom's name!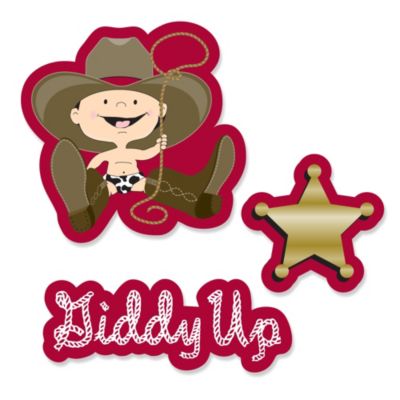 Little Cowboy Shaped Party Cut-Outs
Decorate the party space with this set of 24 little cowboy baby shower decorations.
Little cowboy party decorating set comes with 12 little cowboy cut-outs, 6 Giddy Up words, and also 6 Sheriff stars.

Jointed Horse Party Decoration


Cowboy Baby Costume
Little wrangler infant costume comes with a cowboy hat, jumpsuit with attached vest, belt, and also skid-resistant cowboy boots.
Little Cowboy Baby Shower Games

Printable Baby Cowboy Party Game Collection
Digital Little cowboy baby shower games in this file set will keep the party going and includes:
Baby Food game
Bingo
Late Night Diapers game
My Water Broke
Price is Right game
What's in Your Purse quiz
Wishes for Baby
Word Scramble
Cowboy Baby Shower Favor Ideas

Cowboy Baby Party Favor Box
Favor boxes personalized and each box has the little cowboy graphic and also a western pattern. Baby shower favor boxes comes with a matching gift tag and also a ribbon to tie the tag on.

Cowboy Baby Party Favor Box Template
Western design with rocking horse accent baby shower favor box templates  puff box template with motifs for cupcake picks.  Assembly required.
Rocking Horses

Baby Cowboy on Rocking Horse
Photo by Lisa Rosario Photography.

Classic Brown Plush Rocking Horse
This plush rocking horse will be a fun baby gift to use in the nursery and ride on when the little wrangler is bigger.

Singing Rocking Horse
Plush rocking horse who sings I'm a Little Pony when you press his ear!
Check out these fun baby shower ideas