Dinosaur Baby Shower Ideas
Dinosaur baby shower ideas take a traditional theme and add a modern spin!  Even movie fans will love the blue dinosaur baby gift ideas like: plush dinosaurs, blankets, and also the baby costume.
Blue dinosaur boy baby shower party supplies have friendly, primitive graphics, as well as, dinosaur egg illustrations set against a prehistoric back drop.
Dinosaur baby shower supplies will be delightful for both the guests and new parents!

Baby Dino Party Supplies Printable
Digital party collection with an invitation, advice card, book request insert, candy bar wrapper, diaper request card, favor tag, and also a water bottle label.
Easy Dinosaur Baby Shower Decorating Ideas
Use Easter decorations and also plastic eggs, grass, as well as, baskets.
Decorate a table a plush dinosaur and display it by a basket.
Fill the basket with plastic eggs to resemble a mom dinosaur next to dinosaur eggs.
Plastic Easter eggs can also be filled with treats like: M&M's, nuts, and also candy.


Dinosaur Party Decorations and Supplies
Baby shower supplies with decorations, table ware, and also a variety of other party favors.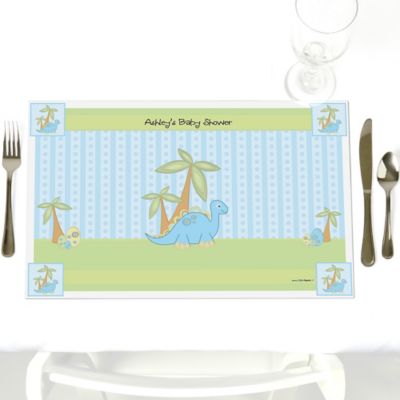 Blue Dinosaur Party Place Mats
Personalized dinosaur baby shower place mats can be used under table centerpieces or used on food tables.
Dinosaur Baby Shower Supplies

4 Download Baby Dinosaur Party Games
Printable party game set include the following: Bingo, Diaper raffle ticket, Price is Right game, and Wishes for baby sheets.

DIY Boy Dinosaur Party Wrappers 15-Pack
Baby shower party wrappers are great to coordinate the rest of the dinosaur baby shower supplies. Wrappers have the blue dinosaur graphic in the center surrounded with a variety of polka dots.
Use a dinosaur  baby shower wrapper to wrap a variety of  party supplies like: bottles, containers, napkins, water bottles, and so much more!

Blue Dinosaur Party Favor Boxes
Baby shower favor box, which is personalized, has an adorable with the blue dinosaur graphic and also includes:  a  matching gift tag and  coordinating ribbon.
Dinosaur Baby Shower Supplies

Dinosaur Baby Printable Invitation
Digital baby shower invitation with an illustration of a green baby dinosaur in a diaper and sucking on a pacifier.

Newly Hatched Dinosaur Baby Invite Card

Dinosaur Personalized Baby Party Scratch-Off Games
Scratch-off baby shower game card comes personalized and also printed with this sentiment:
Help the little dinosaur
with a jolly grin.
If you can find his
colorful spots,
you win!

Also, make a Dinosaur baby shower trivia game. Think of dinosaur trivia questions since there are many types of dinosaurs and movies to choose from.
Little Dinosaur Baby Gift Ideas

Dinosaur Hooded Infant Bath Robe
Hooded, green baby robe with blue  dinosaur spikes on the top and trimmed with white teeth.
Dinosaur Baby Costumes


Baby Wearing Dinosaur Costume
Cute baby costume photo by KYJ.

Dinosaur Infant Costume
Dino-boy costume has a hooded green sleeveless romper with a tan tummy, claw feet, and also a plush long tail.

Infant Blue and Orange Dino Costume
Hooded, green baby robe with blue dinosaur spikes on the top and trimmed with white teeth.
Check out these fun baby shower ideas