Edible Baby Shower Favors
Edible baby shower favors will make a huge impression with your party guests! Whether you bake up a batch of fresh-baked cookies, cupcakes, or other snacks, edible baby shower favors are always a party favorite treat!
Set up a baby shower candy buffet and use a candy colors to match the baby shower colors. Also, considering adding candy treats in clear jars on your baby shower dessert table or use as table centerpieces and let guests help themselves.
Probably, the popular edible baby shower favors included: bubblegum cigars, candy, cookies, cake pops, gourmet chocolate treats, microwaveable popcorn, and so much more!

Baby Shower Guests Enjoying Snacks
Photo credit: pochacco20.
Baby Shower Cookies

Animal Theme Baby Shower Chocolate Covered Oreo Cookies
Set out these yummy animal design Chocolate covered Oreo cookies during your baby shower treat time and watch guests go wild!

Custom Chocolate Graham Crackers Baby Shower Favors
These personalized baby chocolate-covered graham crackers are the perfect sweet treat for your shower guests! These individually wrapped graham crackers are coated in chocolate and covered with a white chocolate drizzle. Each graham cracker comes with a personalized label in your choice of baby designs.

DIY Baby Shower Pacifier Cookie and Candy Treat
Photo credit: Colin. This baby shower snack doubles as favor! You can duplicate this cookie baby shower pacifier treat at home! The lifesaver gummy is a great idea to use for the handle!
Edible Baby Shower Favors

Baby Shower Personalized Cotton Candy 50- Pack
Cotton candy is a childhood favorite treat and will make memories as a baby shower treat. These cotton candy bags contain one ounce cotton candy in pink, or white, with a fun personalized label (note: ribbon not included.)

Custom Hershey's Kisses Baby Shower Favors
These personalized tote bags are filled with Hershey's Kisses and make a great baby shower favor.

Personalized Baby Shower Life Savers
These fresh life savers each come packaged individually and have a personalized label.
Baby Shower Pop Corn

Baby Shower Micro Popcorn Bags
Let your baby shower guests know the e mom-to-be is ready to pop by giving out these cute personalized popcorn bags!
Gourmet Baby Shower Favors

Baby Shower Personalized Gourmet Pretzel Snacks
No need to make your own baby shower treats when you get these delicious gourmet chocolate pretzel! You can choose from several label designs to match your baby shower theme.

Custom York Peppermint Patties Baby Shower Favors
These York peppermint patties make a sweet baby shower favor. Each Peppermint Pattie is wrapped individually and one comes with a custom label in a variety of baby designs.

Edible Flower Treats
Photo by Jasmin Fine
Baby Shower Coffee Favors

Custom Gourmet Coffee Baby Shower Favors
Give each baby shower guest a personalized gourmet coffee favor! Choose from a variety of label designs to match your baby shower theme.
Baby Shower Candy Bags

DIY Personalized Baby Candy Bags
Baby Shower Candy Buffet Supplies

Green Baby Shower Candy Buffet
Impress uests with this green candy buffet! It contains: a 360-piece bag of green apple Frooties, a 110-piece container of green lime Sicklettes, one half-gallon of green Sixlets and a 24-piece box of green apple swirl lollipops.The glass containers picture are shown for display purposes only and are not included, the plastic Sicklettes container is included.


Yellow Baby Shower Candy Buffet Kit
Use this yummy yellow candy buffet at your neutral monkey baby shower! It has candy yellow Laffy Taffy, lemon swirl lollipops, lemon Sticklettes, and yellow Sixlets.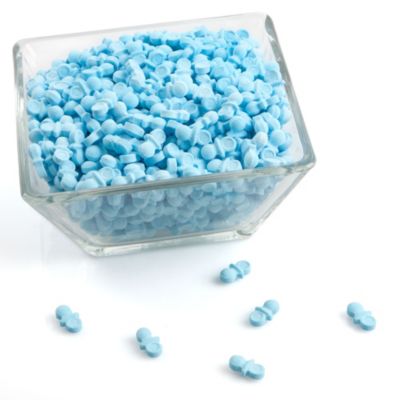 Blue Baby Pacifier Candy
Add these little blue pacifier candies to your baby shower favor containers! They are a quick and easy idea for your DIY baby shower planning. Pink candy pacifiers are available too!
Check out these fun baby shower ideas