Get inspired for a seasonal baby party with these Fall baby shower ideas. Fall is a wonderful season to host a baby shower as the leaves are falling and the colors of nature are so beautiful and vivid.
One Fall baby shower idea is to use the Pumpkin Patch theme. Since pumpkins are available everywhere they can be used throughout the  event space.
Since Fall is the time of year for the yearly Harvest, use some of these items to decorate a baby shower decorations like: acorns, leaves, gourds, pumpkins, and also Sunflowers. Fall party decorations will be easy to find at any local store.

Printable Fall Baby Party Collection
Pretty baby shower collection in pretty colors or pink and orange with pumpkin graphics and a gingham print.  This digital Fall baby shower collection has a large assortment of party items which includes:
3 Party Games
Invitation
Cupcake toppers and wrappers
Food labels
Gift tags
Banner
High Chair sign
Hershey bar wrappers
Party Hat template
Popcorn boxes
Pumpkin clip art
Thank You cards
Signs
Water bottle drink wraps
and more!
Fall Baby Shower Ideas – Decorations


DIY Harvest October Baby Shower Bundle
Digital party kit in the Happy Harvest baby shower theme comes with so many items like: an invitation, advice cards, diaper raffle tickets, party games, table signs, and so much more!

Autumn and Fall Baby Party Supplies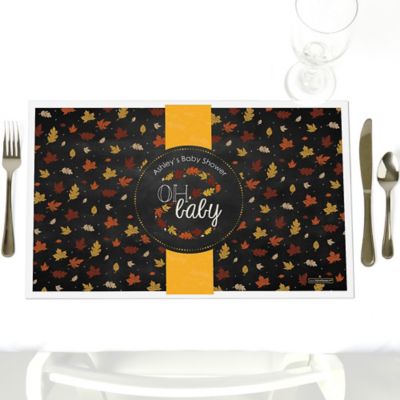 Autumn Baby Shower Place Mat
Since this Fall baby shower place mat is gold, red, and also yellow, it will coordinate with solid-colored party cups, napkins, and also plates.

6 Cute Fall Forest Friends Decorations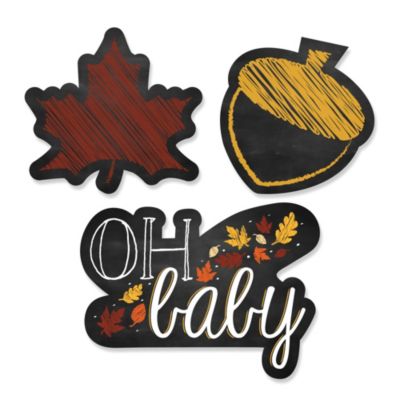 Oh Baby Fall Party Decorations
Harvest baby shower decorations are cut out and the decorations like: acorns, leaves, and also a Fall logo.


Pumpkins and Red Wagon Party Centerpiece
Fall Baby Shower Invitations


Baby in Pumpkin Party Invitations



Printable Woodland Animal Baby Shower Invitation
Baby shower invitation design printed with an assortment of baby woodland animals like: cardinal, baby, fox, and also a hedgehog.


Autumn Baby Shower Invitation Template
Pumpkin Patch Baby Shower Ideas

Pumpkin Patch Baby Shower Supplies
Fall baby shower party theme for the mom expecting a baby during the pumpkin  season. Pumpkin patch baby shower supplies will match many solid-color party supplies like: green, orange, and also tan.


Handmade Pumpkin Soap Party Favors
Give each party guest a parting gift after the Pumpkin Patch baby shower like these handmade pumpkin soaps. Pumpkin soaps come 2 to a bag which has a cute topper.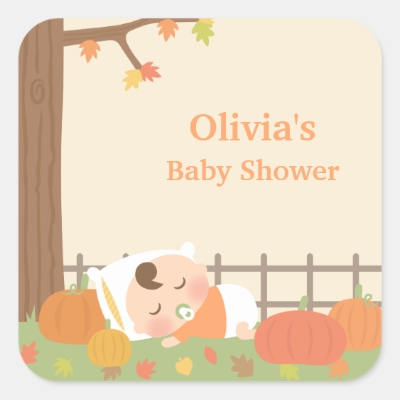 Baby Shower Stickers

Pumpkin Patch Baby Shower Plates
Fall Baby Shower Snack Recipes

Fall Party Snack Recipes by Katie
Check out these fun baby shower ideas