Host a Hello World baby shower to welcome the coming arrival and also send best wishes to the parents-to-be.
Not only is a Hello World baby shower a neutral theme, it makes a wonderful co-ed baby shower for both parents.
In addition, consider hosting a Hello World baby shower if you are looking for a destination baby shower  theme.
Since the Hello World baby shower supplies resemble a destination party, it is easy to decorate any space. Use destination style party decorations and also favors like: maps and luggage tags.

Welcome Little Girl Baby Shower Supplies
Destination Baby Shower Supplies

Destination Baby Shower Printable Collection
Little explorer baby shower theme party kit includes the following:
Candy Bar Wraps
Cupcake Wraps and Tops
Diaper Raffle Tickets
Food Tent Cards
Goody Bag Tops
Invitation
Napkin Wraps
Registered at Cards
Signs
Straw Flags
Thank You Cards

DIY Travel Baby shower Party Kit
Hello World Baby Shower


Welcome to the World Party Supplies
Find almost everything needed to host a welcome to the world baby shower  The  picture above has 12 baby shower supplies like: candy bars, candy pieces, cups, lollipops, goody bags, brownie pops, favor boxes, as well as, candles.
Blue Hello Baby Shower Supplies


DIY Baby Shower Decorations
Adorable baby shower decorations for hosting a big "hello" to the coming boy! Baby shower decorations resemble a baby bodysuit. Each bodysuit has blue stripes. a bow tie, is printed with a quote which is as follows: Hello little one.

Boy Baby Shower Supplies
The destination baby shower theme is called: Hello Little Boy!


Precious Cargo Baby Shower Blue Decorations
Since the precious cargo baby shower has a destination theme, these decorations are a perfect fit. Decorations come in a variety of styles like: world globes, air mail decorations, as well as, signs which read: Hello World.
Welcome to the World Girl Shower Theme

Happy Parents with Baby Girl
Photography by Drea Rewal.


Hello Little One Pink Party Place Mats
Custom place mat with a graphic of a world map in pink tones. Also, each party place mat has a center band area which personalized with any name.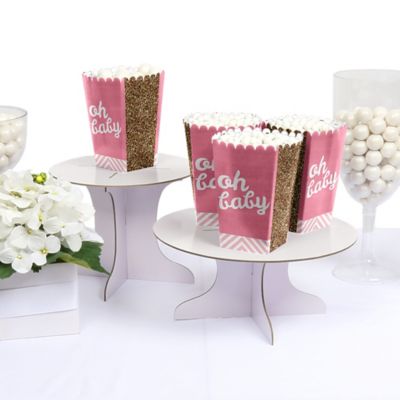 Check out these fun baby shower ideas