One of the most popular baby shower themes is using a cute "little monkey" design. Monkeys are one of the funniest zoo and jungle animals and it is makes for a wild baby shower!
The monkey baby theme showcased can be used  for a boy or girl and the colors are yellow and brown with a  fun polka-dot pattern, and monkey baby graphic. Little Monkey baby shower supplies are also available in the little monkey boy theme, and  little monkey girl baby shower theme.
Hosting a monkey baby shower is easy, as the party kit it is available for 16 to 64 guests. Simply choose the baby shower kit that best matches the guest list.
Below is an entire list of other baby shower supplies to complete your theme and gift the new mommy. Monkey baby party supplies come in many items which includes: banner sign, invitations, centerpieces, favors, games, stickers, and more! The mom-to-be will appreciate the 3-tiered diaper cake, which doubles as a centerpiece decoration!

Yellow Monkey Baby Party Theme
Neutral monkey baby shower can be used for a baby boy or girl party. Party supplies have neutral colors of brown and yellow along with a dotted pattern.



Monkey Boy Baby Shower Supplies


Monkey Girl Baby Shower Supplies
Monkey Baby Shower Decorations

Mischievous Monkey Baby Party Balloon Bouquet
Mischievous monkey balloons in neutral colors can be used for a boy, or girl, baby shower! The adorable mischievous monkey balloon measures a big 30 inches. Add the green, and yellow, latex balloons to create a fun baby shower balloon bouquet.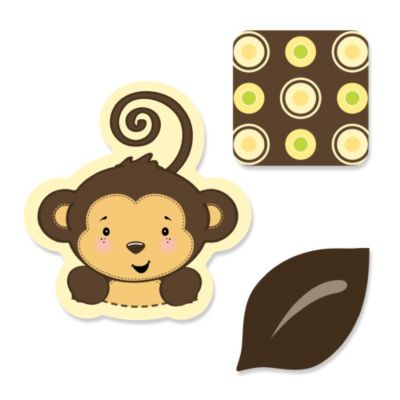 Monkey Neutral – Shaped Baby Party Decorations
Add these Monkey-themed baby shower decorations to your walls, tables, or other space during your party.
Monkey Baby Shower Picture Ideas

Bonnet Macaque Monkey Family
Photo courtesy: Jan Arendtsz

Monkey Baby Shower Photo Booth Props
New! These monkey props-on-sticks are fun for everyone who attends your baby shower. Have guests hold up these monkey picture props for the best photos to make your baby shower a memorable event. Comes with one personalized baby shower "talk bubble" with the expectant mom's name!

Monkey Baby Costume
Infant monkey costume has a one-piece romper with inner leg snaps for easy diaper changing, tail,  non-skid soles, plus the adorable headpiece with a banana on the top.
Monkey Baby Shower Games

Monkey Twins Baby Party Games
If the mom-to-be is having twins, use this monkey baby shower game card to keep guests busy and having fun during your party! This monkey twins baby shower game card has 5 fun games, plus the front is personalized for the mom-to-be!

Monkey Baby Snuggles in Mommy's Arms
Photo by: Jinterwas.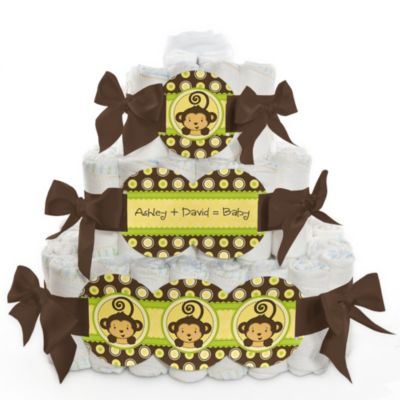 Monkey Themed Baby Diaper Cake
Monkey Baby Shower Dessert Table Ideas

DIY Neutral Monkey Baby Party Toppers
These cupcake toppers make having a decorative fun yummy dessert without the hassle of going to a bakery. Monkey neutral cupcake toppers come with 12 decorative picks, plus monkey neutral stickers personalized with the mom-to-be's name and baby shower date.

Monkey Baby Party Candy Bouquet with Lollipops
This mini monkey theme candy bouquet comes with the lollipops and makes for one adorable baby shower centerpiece! Baby shower candy bouquets are made with a paper cone that fits inside the chrome stand. Fill the candy bouquet with the included 8 yellow lollipops for one easy baby shower treat and centerpiece!
Monkey Baby Shower Food Ideas
Food for your monkey baby shower is easy when you think "bananas", baked goods, and sweet banana desserts.
One of my favorite ice cream treats is the banana split and would make a yummy dessert for your monkey baby shower. If you would like a lower calorie banana split, try low-calorie ice cream, or use banana yogurt instead of ice cream.
If you bake, consider baking up some banana bread or monkey bread. 2  bread recipe links  are below.

Quick Monkey Bread With Glaze Recipe
By Katie

Banana Bread With Chocolate Chips Recipe
Banana bread recipe/photo courtesy Jamie Anne.
Have a banana recipe to share? Please submit your recipe below.
Check out these fun baby shower ideas