An Owl baby shower has become a popular theme for boys and girls. If you  live in an older neighborhood, you may have owls who visit and can hear them at night call, hoot hoot!
If you know an expectant mom, consider honoring the coming baby by hosting an owl baby shower!

Owl Family Printable Party Invitations
Blue Owl-themed baby boy party supplies, with an adorable, baby owl graphic.
An Owl baby party is an easy shower theme to host and comes in many party supplies.
Since the featured baby shower kit has 2 table covers, it is easy to cover tables like: a dessert table. Because most of the party supplies have solid colors, these supplies will not overwhelm the rest of the owl party supplies.
Owl Baby Shower Inspiration
Set of 8 baby shower games with a graphic of a mom and baby owl in the corner. Print and play all the party games which are suitable for a boy, or girl, shower. Games include: Animal Pregnancy, Bingo, Count the Candies, How Big is Mommy's Belly, Nursery Rhyme Trivia, The Price is Right, Word Search, and also Word Trivia.

Baby Boy Owl Party Kit
Custom blue Owl boy party supplies are printed with the following sentiment:
Look Whooo's Having a Baby!
Owl Baby Shower Table Ideas

Woodland Owl Table Party Inspiration
Photo by Elena Roussakis.

Owl Party Cupcake Stand and Wrappers
Display cupcakes on the stand and place on a treat or buffet table. Since you can use the tiered display, place the cupcakes on each tier. If there are not enough cupcakes, use other treats.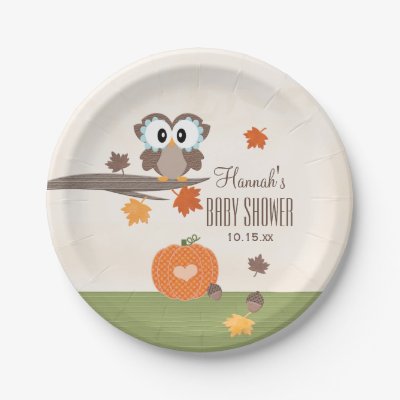 Owl and Pumpkin Party Paper Party Plates
Owl Baby Shower Favors


Owl Theme Candle Party Favors
Tea light candles topped with baby owls are so adorable! Tea light candles are great party favors, as well as, fun baby shower table decorations! And since each owl candle is individually boxed, no additional wrapped required!


Owl Party Favor Boxes
Assorted party favor box styles to fill with small treats and coordinate with the owl baby shower supplies.


Plush Novelty Owls 12-Pack
12 cute colorful plush owls to use as baby shower decorations and also party giveaways.
Owl Boy Baby Shower Supplies

O it's a Boy Owl Party Supplies
O stands for an Owl boy baby shower themed party kit! Feature party kit has these baby shower supplies: banner, cupcake toppers, custom signs, stickers, solid napkins and also plates.
Check out these fun baby shower ideas