Ahoy mateys, looking for a Pirate baby shower theme?! Many of these Pirate baby shower party ideas will be a treasure for the mom-to-be and so much fun to host.
As you plan a pirate baby shower, think of themed party decorations like: treasure chests, pirate ships, as well as, a buried treasure.
Also, an inflatable treasure chest will be a wonderful Pirate baby shower party decoration.
Banners
Blank folding label
Candy wraps
Circle labels
Drink wraps
Favor Box
Favor tag
Party Signs
Pattern Paper
Party Hat
Pinwheel
Snack Box
Straw Flag
Thank you card
From a pirate ship baby shower centerpiece, decorations, invitations,  this page will give you many ideas for hosting a pirate baby shower!
Since baby might be a bit small for a pirate ship toy, a pirate ship play set will be a great nursery decoration. Also, a pirate ship play set can be used as baby shower decoration.
Pirate Baby Shower Decorations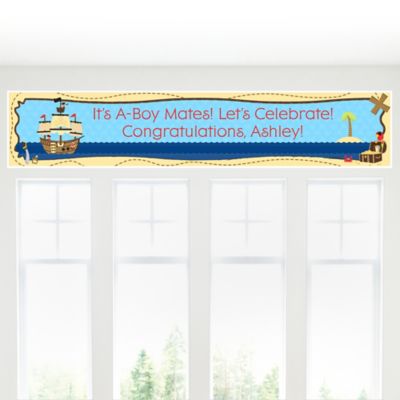 Pirate Theme Baby Party Banner
Custom baby shower banner has a pirate ship "on the open seas" graphic, with a desert island border. Banner printed with a fun quote which reads: It Is A Boy Mates! Let's Celebrate!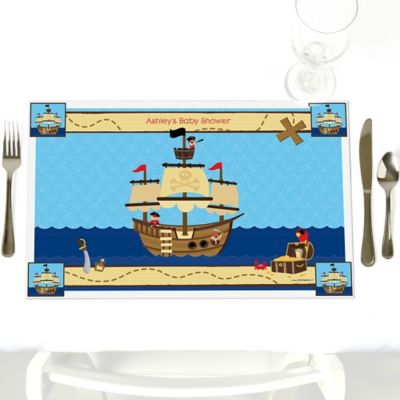 Personalized baby shower plate mats have the pirate ship graphic in the center and also in 4 corners. Place mats can be used as baby shower centerpieces, in front of a guest place setting, or on a dessert table.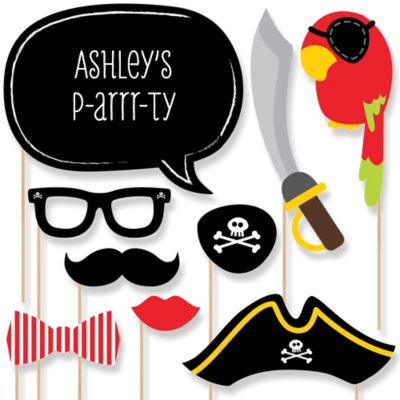 Ahoy Matey Photo Booth Props
Pirate photo booth props will be fun for baby shower picture-taking time. Pirate picture props come with a  personalized talk bubble, eye patch, pirate hat, parrot, sword, glasses, and many other fun props.
More Pirate Baby Shower Ideas

Digital Baby Shower Invitation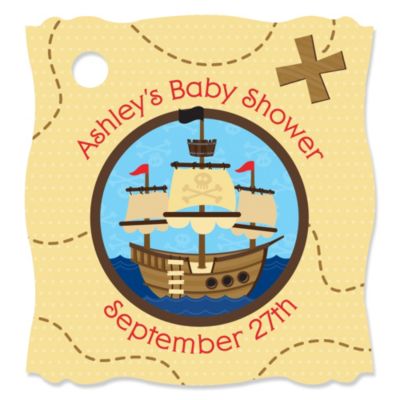 Pirate Personalized Party Favor Tags 20-Pack
Custom baby shower favor tags with the pirate ship graphic and the mom-to-be's name will make favors stand out in the deep-blue sea!


Party Favor Box
A must-have for a Pirate-themed baby shower! Favor box has a graphic of a pirate ship on the open sea. In addition, each pirate baby shower favor is personalized, with a matching gift tag, as well as, a ribbon.

Infant Pirate Costume
Pirate Baby Shower Games

Free Pirate Word Search Party Game
Thanks to Estelle Page for the pirate party game!
Pirate Baby Nursery Bedding Set

Pirates Cove 10-Piece Crib Bedding Set
Check out these fun baby shower ideas