An adorable party idea for a boy is a puppy dog baby shower theme! These puppy baby shower ideas celebrate that adorable 4-legged friend, who is know to be man's best friend and soon to be your baby boy's best friend too!
Girls and boys both love puppies and a puppy baby shower can be used for both boys and girls, below are the blue puppy baby shower ideas, but come in pink for little girls too! A puppy dog baby shower will be "dog-gone" cute and can be decorated with stuffed puppies or dogs.
Decorate your puppy baby shower tables with plush puppy dogs as centerpieces, or use on other tables as displays. Your party guests may think they are so cute, they just might want to take one home, but be sure to save some of the plush puppies for baby's room.

Blue Puppy Dog Baby Party Balloons and Decorations
Adorable blue puppy balloon wearing a dog tag that says, Too Dog gone cute, along with blue, and white, solid-colored latex balloon make a fun balloon bouquet. Puppy table decorations a large circle pieces to use in place of small confetti pieces, in a variety of graphics, and shapes.
Complete your puppy themed baby shower for boys with the  blue puppy dog and spotted puppy baby shower supplies that comes in a party kit or each item is available individually to fit your need. A girl's pink puppy dog baby shower theme is also available!
Puppy Dog Baby Shower Supplies


Blue Puppy Dog Baby Party Kit
This party kit is an all-in-one invitation and table ware set! The party plates are an adorable Dog-house shape with a blue puppy inside. This all-in-one puppy dog baby shower for boys comes with supplies for 16 guests includes:
blank fill-in invitations, cups, beverage, and luncheon, napkins, dessert, and dinner, plates, blue and white latex balloons, cutlery, and 2 rolls of crepe paper streamers, and 2 solid-color table covers that measure 54 inches wide by 108 inches long.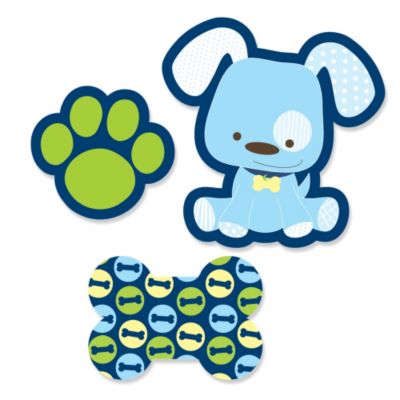 Puppy Dog Boy Baby Shower Cut Outs
Adorable puppy baby shower decorations for boys in set of 24 shaped, themed party cut-outs.


Plush Mommy Dog Holding Puppy 12-Pack
Set of 12 plush mommy dogs holding a puppy in her mouth! Use these plush puppy dogs as party as baby shower favors and decorations.
Puppy Dog Baby Gift Ideas


Puppy Infant Costume
Adorable one-piece puppy costume with a hood and jumpsuit with non-slip soles.
Puppy Dog Baby Shower Treat Ideas

Waffle Puppy Chow Snack Mix Recipe
Recipe credit: Katie.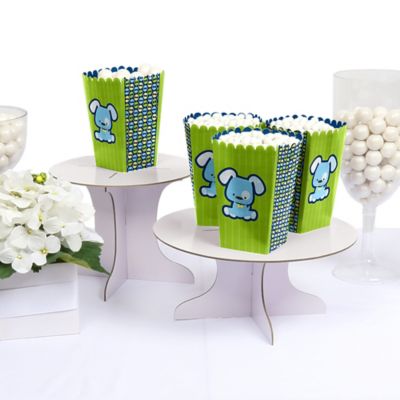 Boy Puppy Personalized Baby Party Popcorn Box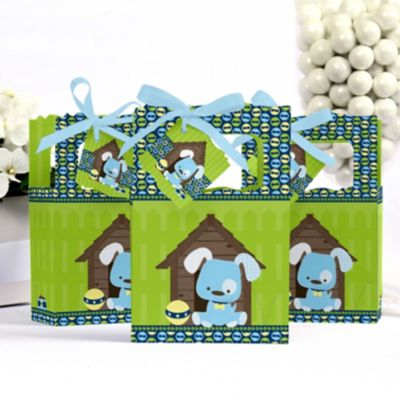 Boy Puppy Dog Baby Shower Favor Boxes
Each favor box has the blue puppy graphic, colorful pattern and personalized and comes with a matching gift tag.
Puppy Dog Baby Shower Invitations

Snips & Snails Puppy Dog Tails Printable Baby Shower Invitation
DIY puppy theme baby shower invitation printed with the beloved boy quote: Snips & Snails, and Puppy Dog Tails, That's what Little Boys Are Made Of!

Bow Wow Puppy Dogs and Sports Party Invitation

Puppy Dog Party Book Request Cards
Check out these fun baby shower ideas