Know a pregnant mother and father, expecting a new little sweet pea? Sweet pea is a cute phrase for a baby, and if the expectant mother is having more then one baby, they are often thought of as "peas in a pod". The sweet pea baby shower or two peas in a pod baby shower supplies also come in an African-American version!
If you are looking for a twins, or green, baby shower theme, the sweet pea baby shower is a natural choice! Below is a Sweet Pea party kit, for a baby's first birthday, and items are available individually.
The personalized sweet pea baby shower supplies are printed with the mother-to-be's baby shower information and includes: a banner, favor box, a lip balm jar and candle favor tin (both favors are packaged in a organza bag), a pea pod balloon, and invitations.

Peas in Pod Baby Shower Favor Box

Two Peas in a Pod Baby Shower Theme
Know a couple expecting twins? This two peas in a pod baby shower kit would be a perfect fit for your event! Twins baby shower theme also comes in an African-American version.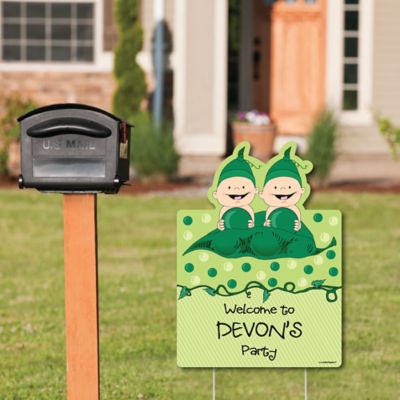 Sweet Pea Baby Shower Favors


DIY Peas in a Pod Baby Shower Favors
Create these peas-in-a-pod baby shower treats with green gumballs, as well as, green tissue paper tied on the ends.

Sweet Pea  Favor Box
These adorable baby shower boxes have a two baby's in a pea pod, wearing a green caps! Favor boxes come personalized with a matching gift tag! Twins and triplets baby shower favor boxes are also available!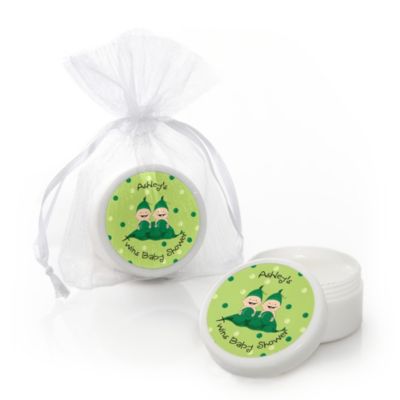 Sweet Pea Baby Shower Decorations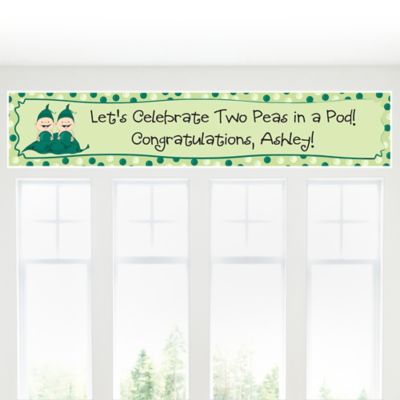 Twin Two Peas in a Pod Personalized Baby Shower Banner


2 Peas Baby Shower Balloons & Decorations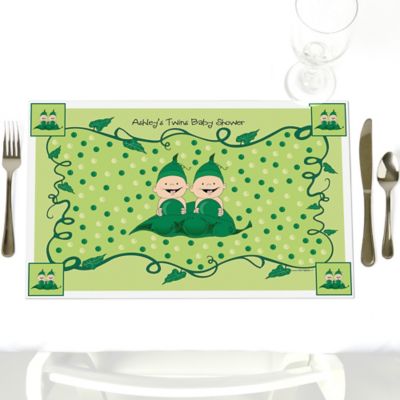 Twins Peas In A Pod  Baby Shower Place Mats
Sweet Pea Infant Costume

Pea in the Pod Bunting Infant Costume
Cute and funny infant Pea-in-a-Pod infant costume is a two-toned green bunting with velcro opening at the bottom, and also includes the hood.
More Sweet Pea Baby Shower Ideas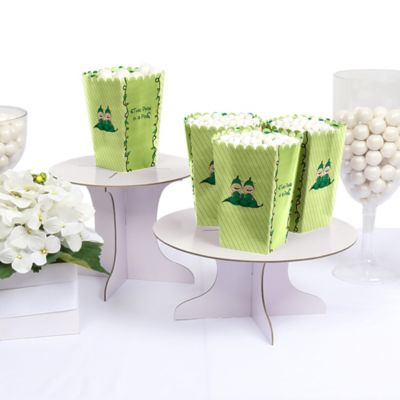 Sweet Pea in a Pod Baby Beanie

Sweet Pea Baby Bodysuit


Pea Pod Boy Baby Shower Invitations
Check out these fun baby shower ideas