Woodland Animals Baby Shower Ideas
Celebrate with the mom-to-be, and party guests, with a baby shower by incorporating some of the following woodland animals baby shower ideas.
Since the woodland animals baby party supplies are gender-neutral, the  party  is suitable for both a baby boy and girl.
In addition, the woodland animal party supplies have cute graphics of things found in the forest like mushrooms, trees, and so many more forest items.
Also, consider decorating the event space with adorable woodland stuffed animals on tables, or other places, and they  will make delightful party decorations.
An easy party decoration for the woodland animals baby shower is to display stuffed animals like a bear, deer, fox, moose, owl, raccoon, and a squirrel.

DIY Woodland Party Decorations and Supplies
Baby shower decorating kit comes with many woodland animal party supplies. Since this baby shower dessert table decorating kit contains so many items, the kit will make party-planning so much easier.
Woodland Animals Baby Shower Ideas


Forest Animals Baby Party Supplies
The baby shower party kit is for decorating party tables and also walls. The Woodland creatures party kit contains almost everything needed for decorating and also for serving party guests.
The woodland animal themed baby party kit contains table ware and decorations like: balloons, cutlery, napkins, plates, and so more!
Since the baby shower supplies have so many colorful animal graphics, almost any solid-color table cover can be used on tables. Consider displaying a brown, table cover on  the party dessert table, as well as, the gift table.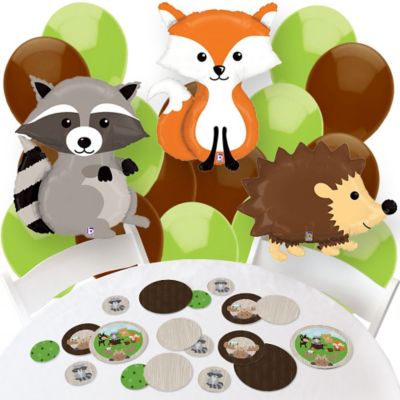 Forest Animals Party Balloons and Table Decorating Kit

Woodland Party Decorating Kit
Deluxe woodland animal baby shower decorations in one kit which includes: balloons, photo booth props, and also welcome sign.



Forest Animals Cake Top or Cupcake Picks
Printable Baby Shower Games

Digital Forest Party Games Package



5 Baby Shower Game and Book Request Cards
Five printable woodland-themed baby shower games and cards collection.
The party games each have an illustration of friendly forest animals and come in these 2 game and card designs: Bingo, books for baby, bring a book, and also wishes for baby.
Woodland Baby Shower Favors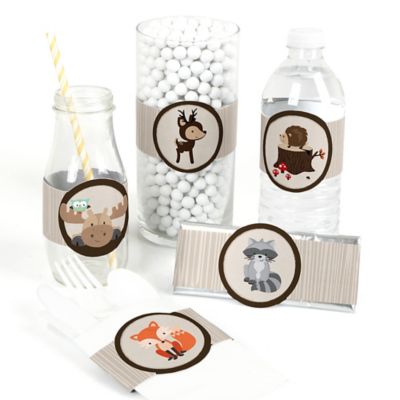 DIY Forest Creatures Party Wrappers 15-Pack
Are you hosting a woodland baby party and looking for easy woodland animal party ideas?
The baby shower party wraps have a wood grain-like background along with cute graphics of woodland creatures.
DIY woodland creature party supplies are suitable for displaying candy bars, containers, napkins, and also water bottles.

DIY Forest Animals Favor Bags
Party favor bag template is by Tina D.

Squirrel in Forest Eating
Picture by Peter Trimming.
More Woodland Animals Baby  Party Supplies

Themed Party Popcorn Boxes
Forest creature graphics adorn these popcorn boxes and each box is personalized with the mom-to-be's name.


Woodland Creatures Cupcake Wrappers

Yearling Moose in Forest Photo
Picture by Denali National Park and Preserve.
Woodland Themed Nursery Collection

Forest Crib Bedding Set
Baby crib bedding collection comes with a comforter, rail cover, skirt, sheet, as well as, the whimsical musical mobile.
Check out these fun baby shower ideas